Clifton Court Stables
A short history / Services etc.
---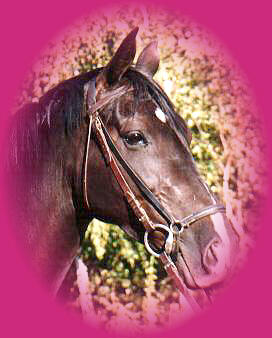 ---
Clifton Court Stables was founded in 1973 on our family property named "Clifton" at Anakie, Victoria, Australia. The bloodlines were based on Australian Thoroughbreds, and the Holsteiner Stallion "Flaneur" who was used over Thoroughbred mares to produce the foundation mare bloodlines.
I purchased the Oldenburger Stallion "Lucano" on my return to Europe in 1975 to strengthen the bloodline.
Clifton Court Stables is breeding a modern performance horse.
The aim is to produce elegant, correct free moving dressage horses, with the temperament for easy handling and training. A number of these horses are performing well in competition to F.E.I. level at present.
The principal Sire at the Stud is now 'Clifton Court Luciano' (an eleven year old son of 'Lucano' ) carrying Anglo-Arab and Holstein blood on his mother's side.
A son of 'Luciano' ( 'Clifton Court Light Dancer') received 83% of the classification points at five months of age, and is growing into an outstanding stallion. 'Lucano' has three licensed sons with the A.C.E. group, and 'Clifton Court Light Dancer' is following in their footsteps. (Hoofprints?)
Clifton Court Stables is working closely with the German Oldenburg Verband classifiers, as well as the International Sport Horse classifiers through the A.C.E. group, and is proud to say that the standard of the Modern Sport Horse bred at Clifton Court Stables meets the high standard required by these judges of performance horses. (Daughters of 'Lucano' are now in the Oldenburg Verband Stud Book.)
The progeny of 'Lucano' continue to produce outstanding performance horses.
Another of my horses ('Clifton Court Levi') at the 2000 classification, was acclaimed as a model of the ideal example of the Modern Sport Horse.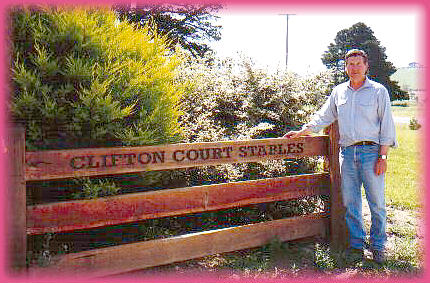 * TRAINING*
I am now training horses and riders at Clifton Court Stables at Scotsburn, near Ballarat, in Victoria, Australia. I also run the Warmblood Stud.
I offer training of both horse and rider, as well as offering for sale quality young Warmbloods at various levels of training.
My experience as a Stud-Master has been developed since early childhood, when my father and grandfather had a Thoroughbred Stud, and before that a Clydesdale Stud. As a young teenager, I bred Palomino riding horses before leaving for Europe to train with the Classical Masters of European Dressage.
I am now totally devoted to breeding the modern Sport Horse.
* A full size outdoor all weather Arena is available.
* A full size indoor riding Arena is available a few kilometres away, for all weather training.
* Excellent stabling for horses, and numerous local Bed & Breakfast establishments offer comfortable accomodation for riders.
TO CONTACT ME, MAKE ENQUIRIES, OR SEEK MORE DETAILED INFORMATION, PLEASE EMAIL ME WITH YOUR CONTACT DETAILS: